Welcome to Jungle Island Adventure Golf
Jungle Island is available to book up to 14 days in advance
Jungle Island takes crazy golf to a whole new level. Embark on a fun-filled adventure with your friends or family, suitable for anyone from 2-82 years old!
Jump the roaring rapids, visit the famous crash site, navigate the caves and waterfalls, and, oh yeah, avoid the angry gorilla!
Jungle Island is available to book up to 14 days in advance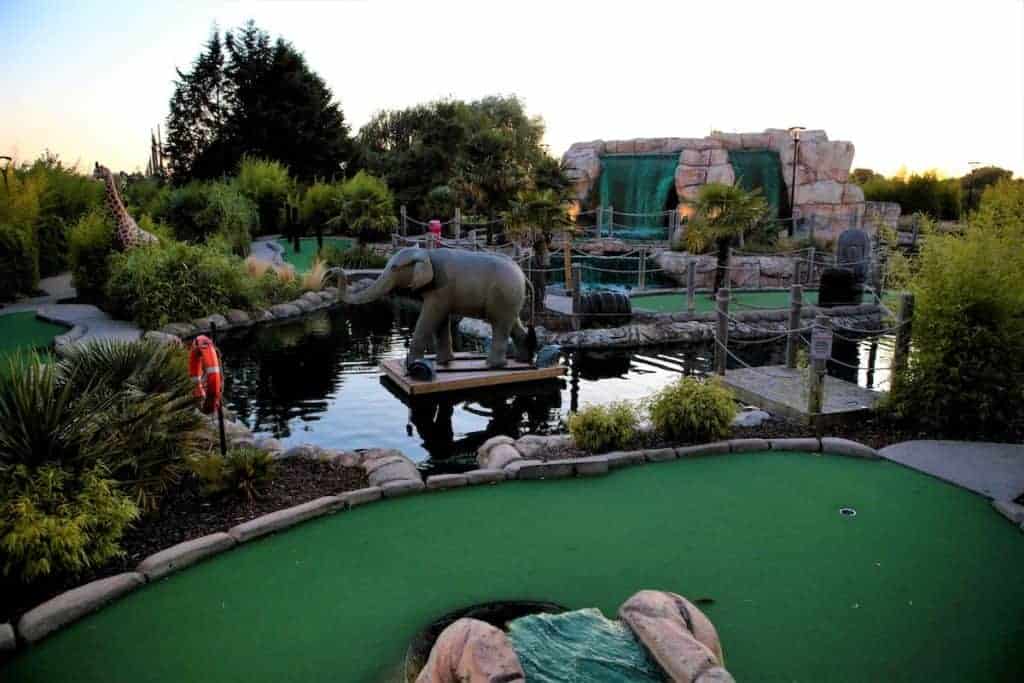 Great fun for adults, kids and every age
18 individually themed holes that will challenge your putting prowess. Pre-booking for Jungle Island is essential, you can either book online or via our shop on 0208 393 8400.
We provide all the equipment you'll need and we're even buggy-stroller friendly. We have free parking on-site when you arrive and a café with indoor and outdoor seating for afterwards. Only food and drink purchased on site can be consumed on site, thank you.
We also advise that children take coats as the weather is often unpredictable on Jungle Island.
Before booking please read our new guidelines
The Ultimate Ticketed Attraction
With thick bamboo, waterfalls and a lagoon, you and your family will be fully immersed into a Jungle Island adventure. Did we mention look out for the wild animals? From Giraffes to Hippo's, and crocodiles to elephants, the action never stops on Jungle Island.
Challenge your kids or your friends to a game, or even try us out for your date night!
Adventure Golf Pricing
Your start time is to be pre-booked, with each time available for up to 5 players. If you have more players just book consecutive start time slots. A family of 4 is 2 adults and 2 kids (under 14).
Jungle Island Birthday Parties
Having fun with a hint of adventure
"Love to come here. There is so much adventures activities to do here. Great place for kids to enjoy, food and drinks are amazing"
Some stuff you might want to know........